DonaldPump is a fun and unique deflationary token built on the Binance Smart Chain.
Draining the swamp of shitcoins.
Initial Supply
137,200,982
TX FEES
1% to Liquidity Pool 1% Burned
0x3edd04ba36c3bb5afd8cddbbd6481ecb0cc7806c
Purchase $DNLD by using the following contract address
Get exclusive insight into our latest announcement, product launches, and more by joining our active community on telegram.
Through the integration of a
1% burn
and
1% back to liquidity
policy per transaction, disallowing minting of $DNLD allows us to generate more of a genuine interest towards our platform without any concern of over distribution.
Believe in our vision, $DNLD to the moon.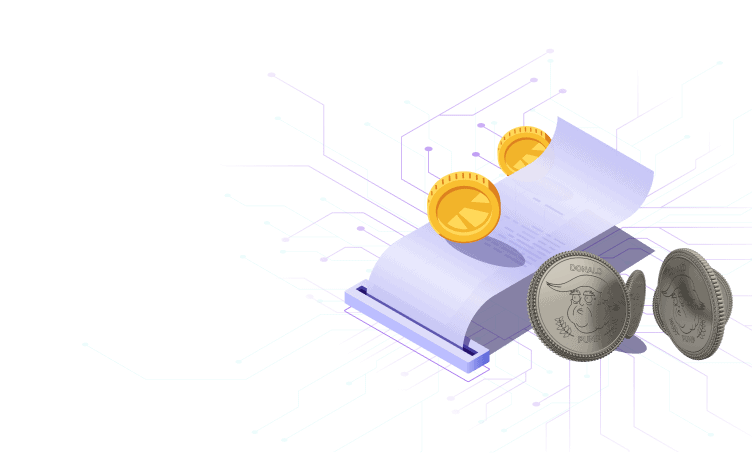 Jeremiah Lawrence
CEO, Operations Manager
Tallest guy in the team, actively working towards fulfilling my vision of solving modern day enterprise and banking problems through the use of crypto currency.
Geronimo Jr Deraffaele
CTO, Tech Lead
Straight from Italy, I believe in the ability to create a strong ecosystem with the blockchain technology. Having years of experience in the iGaming development scene, I plan to bring my expertise into the crypto field.
Amir Alexander
MARKETING DIRECTOR
Referred to as the Coin Dragon, my journey started in late 2012 after creating a network of social media influencers to work together in order to establish a fantastic network of results, ultimately promoting the crypto space to new ventures and companies worldwide.
Mary Ann Saviour
BLOG WRITER
Having the work experience of starting my own research and journalism company back in 2013 created a journey like no other. Delving deep into the astounding growth and fundamentals of crypto currency whilst experiencing amazing opportunities to open up about till this day. 9th May 2021
Fair Public Launch
Pancakeswap token launch
Q3 – 2021
Game Development
Listing on more exchanges
New exciting Partnerships
Throughout Q2 – 2021
Coin Gecko Listing
Coin Market Cap Listing
Marketing and Promotion
Giveaways and influencer
campaigns
Q4 – 2021
DonaldPump Game Launch
Raffles and Referrals Launch
Website completion
Disclaimer: This website is based on a crypto token project DonaldPump, and in no way do we encourage financial advise or behaviors. We shall not in any way constitute a recommendation as to whether you should invest in any product promoted. The team behind DonaldPump accepts no liability for any loss occasioned to any person acting or refraining from action as a result of any material provided or published. DonaldPump is not a security as per US financial regulation, Europe, UK, Canada or any other regulation. DonaldPump's team, developers and other stakeholders created this token as a fun project, and meme. None of the statements on our website, blog post or social media are financial advise, and are entirely our team's opinions. We strongly recommend understanding any risks associated with investing in crypto currency, and to DYOR (Do Your Own Research).